Ready for some queer love and joy?

It's LGBT+ History Month all February, here in the UK. To celebrate we will be taking a look through historical and monumental Queer moments of history that helped define where we are as a community.
Want to join in with the celebrations? We have a number of events taking place that you can join, whether you prefer in person or online. Check out our events schedule below to see what you can sign up for!
To mark this year's theme, "Behind the Lens", we will be showcasing LGBTQ+ people's contributions to creative media. From our top 5 LGBTQ+ filmmakers, to the best books to learn about queer culture - follow along with our social media campaign, all month long.
Women's Programme: Quiz Club - LGBT+ History Month Special
If you're up for an hour of lots of laughs and a little bit of learning, then Quiz Club is for you! Quiz Club is an evening of trivia, puzzles, and brain teasers, alongside some relaxed chat. Come together and exercise those little grey cells. Feel proud when you know an answer, and learn something new when you don't! Win, win!
In February's session, we'll be looking at LGBT+ History Month and also celebrating Quiz Club's 2nd birthday! Come along and put your thinking caps on in a fun, safe, women-centered space. This event is online.
Women's Programme: Black Feminism in Music

As part of LGBT+ History Month, Chardine Taylor-Stone will be taking us on an exploration of icons, songs and history of Black women's feminist expression in music from the the Blues of the 1920s to Megan Thee Stallion. Join our Women's Programme for this amazing, free, online talk!
Chardine Taylor-Stone (she/her) is an award-winning activist, cultural producer and writer. Alongside several years of community work, public speaking, curation and activism she also plays drums in all-Black women band Big Joanie who were nominated for a Mobo Award in the new Best Alternative Act category.
Bi Film Festival at LGBT Foundation
Looking for a new must-watch movie? We've got you covered.
Join us for a day of celebrating bi representation in cinema. Come along to our welcoming and friendly LGBTQ+ centre, located just outside Manchester's Gay Village. We will be showcasing three feature films for you to feast your eyes on across the day. Don't worry, we'll provide the snacks and drinks.
We'll be showing: Kajillionaire, Cicada, and some short films 💜
My First Queer PAL-entines
An evening of friendship fun centred around LGBTQ+ people who've come out recently.

Following My First Pride & My First Queer Halloween, LGBT Foundation are delighted to bring you another opportunity to find your community this PAL-entines! Expect relaxed socialising, icebreaker games, fun crafts, and more.
'PAL-entines Day' is a friendship centred alternative to 'Valentines Day' so we want to bring people together in a fun, relaxed environment.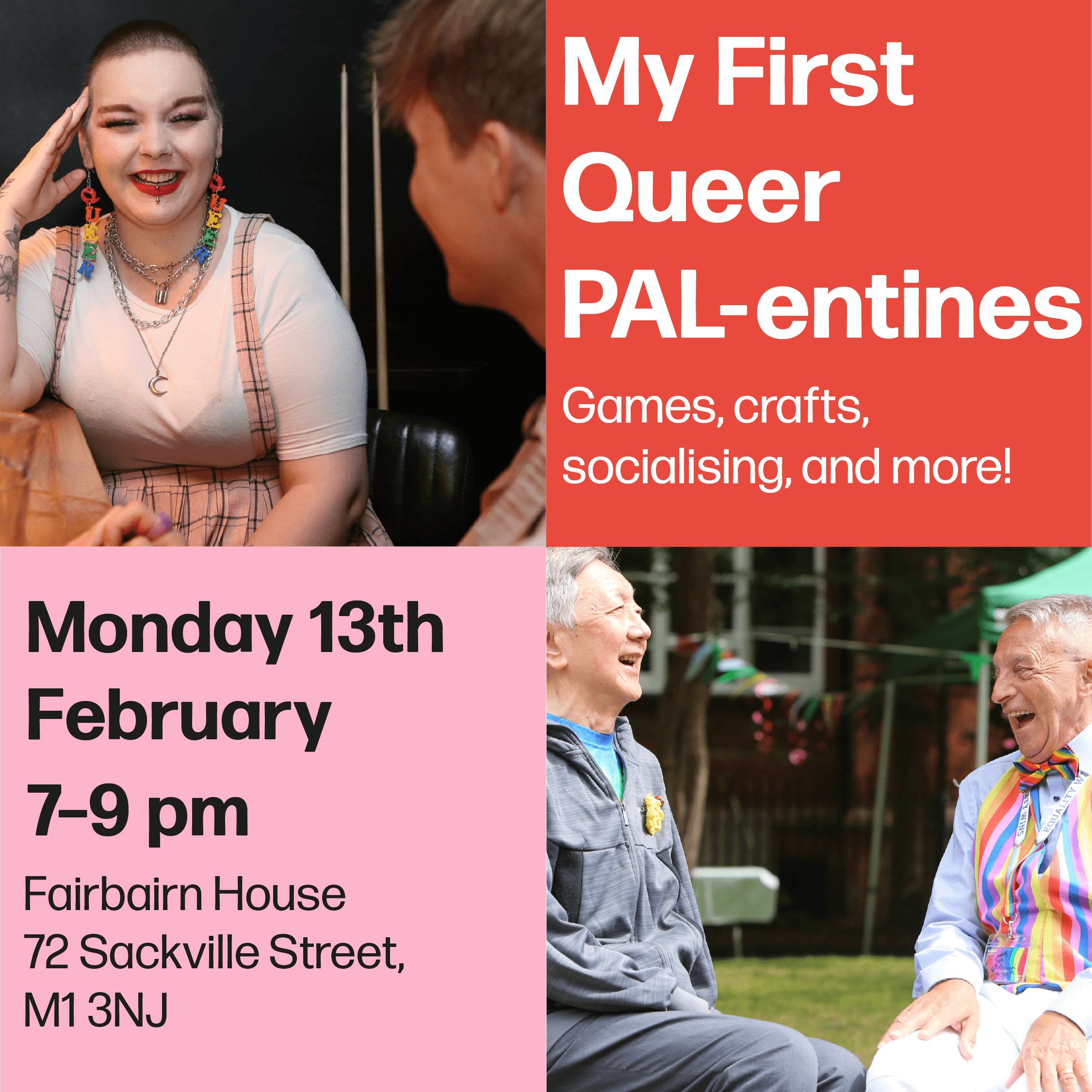 Hands on History: LGBT+ History Month
Drop in to Manchester Central Library this LGBT History Month to see items from the library's LGBTQ+ collections which illustrate our rich history of local activism and community organising in Manchester and beyond. Items will be specially selected to mark the 20th anniversary of the end of Section 28 in England and Wales.
If you're inspired by the items in the archive and wish to get involved in community organising yourself, our free guide to Community Organising is available to download here.
Film Screening: Firebird
LGBT Foundation would like to invite you to join us as we mark LGBT History Month with a screening of "Firebird"; a film adaptation of the true story of forbidden love between a private and a fighter pilot set against the backdrop of the Cold War.
This screening has been organised to allow us to continue to shed light on the history of LGBTQ+ persons within the Armed Forces, and to highlight and promote LGBTQ+ peoples' contribution to cinema and film.