History of the Equalities Board
The Equalities Board was created by older people, with the Equalities Board research co-ordinators, in a process called 'co-design'. This means 'designing together'.
In the beginning
At the beginning of Ambition for Ageing (AfA), some equalities organisations that work with minority communities came together to think about how to make sure that the programme would reach older people who are often excluded because they come from a marginalised community. For example because they are disabled, or Deaf, or because of their ethnic group, sexuality or because they are trans. The project workers decided to create a board which was open to older people from a wide range of backgrounds, and that the board itself should design the way it would work and what it would do.
The first meeting
The first meeting was in March 2016. The people who came had heard about it through equalities organisations in Greater Manchester, the Local Delivery Lead organisations in the AfA programme, and the Greater Manchester Older People's Network [insert link]. Some of the people who came were older people from marginalised or minority communities. Others were representatives of organisations that work with specific communities in Greater Manchester. The meeting focused on learning about the AfA programme, and discussing how to design the Equalities Board together.
More planning and launch of the EB
There were six more monthly meetings to plan and design the board together. People talked about how marginalisation affected themselves and their communities. They discussed different ways the Equalities Board could make decisions, and how it could be effective. The workers continued to contact community organisations across Greater Manchester to invite more people to join in.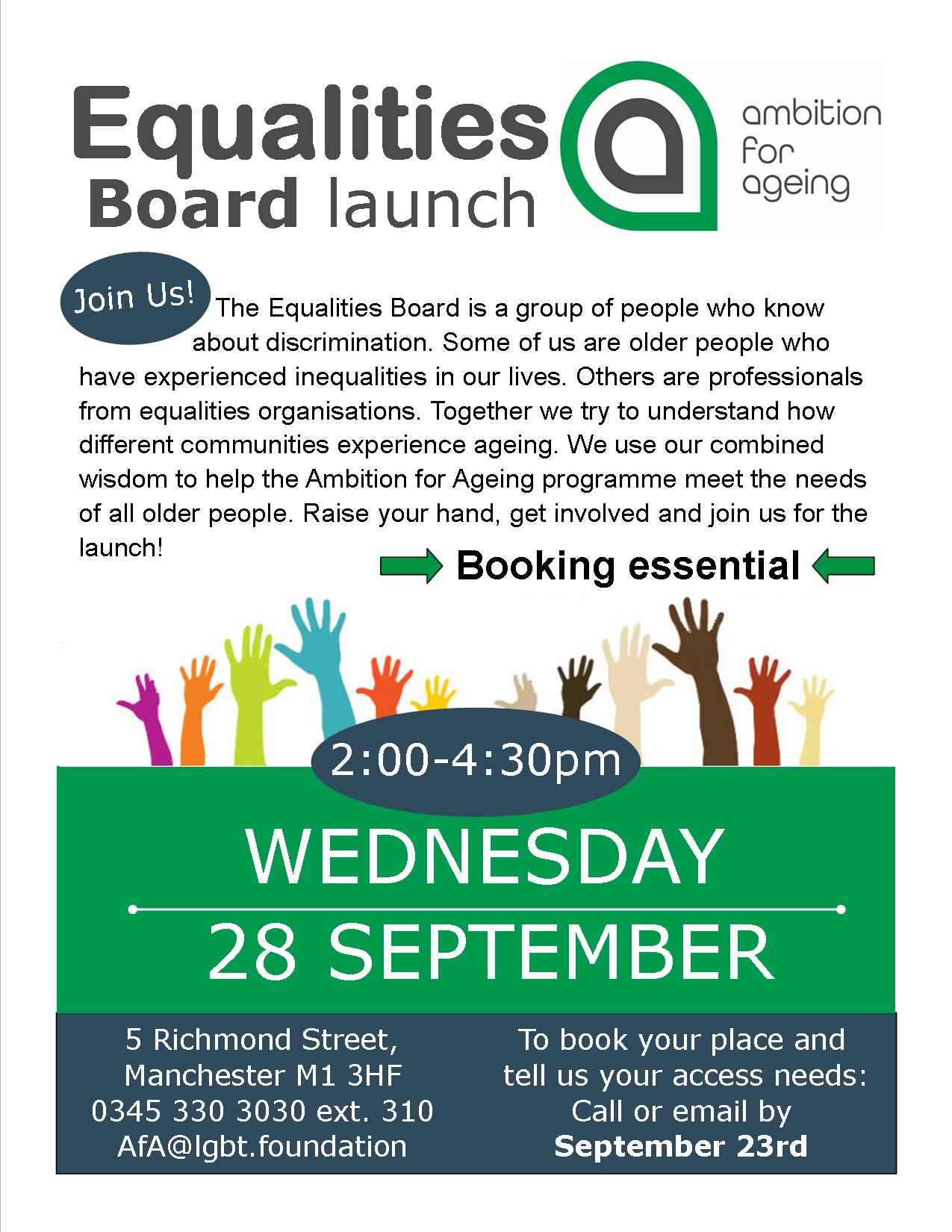 The Equalities Board was launched in September 2016.
At the next meeting in November 2016 there was a presentation about equalities and some of the words we use to talk about inequality. To see the slides click here.
Quotes from EB members:
"Being part of the Equalities Board has made me aware of a lot of minority groups which I wasn't aware of, and talking about equalities and inequalities has given me a different insight into what I should be looking at and how I should consider myself in one of the groups."
"We come here, we talk to each other, we are a bit more open. Before this I would not have voluntarily gone to a group to say, "Let's discuss LGBT," but now that barrier has gone. Now we can talk to each other one to one."
"I myself have experienced discrimination and I know what that's like. Coming here together with people of different backgrounds, I know that it doesn't only affect me but everyone here in some way has experienced discrimination in their lifetime. The reason why I joined this group was to see a change and work out how we can work together with the elderly on this I don't know, I think there's a possibility it can end, and the way of ending it and reducing it is working together and coming together and educating people."